! Seagate Adventurers Guild Library - Seagate Times HTML code written by Keith Smith This page is the main index for the seagate adventurers guild library. Links point to the indexes. There are also links to miscellaneous documents in pdf format. Modification History 21/06/1999 - Split off from index page 13/09/1999 - Add first set of original issues 13/12/1999 - Add the Seagate Myrror 21/07/2000 - Add Issue 30 16/12/2000 - Add Issue 31 15/03/2001 - Add Issue 32 17/06/2001 - Add Issue 33 20/09/2001 - Add Issue 34 18/10/2002 - Add issue 38 12/06/2003 - Add issue 41 21/09/2003 - Add issue 42 29/06/2003 - Add back issue scans 01/04/2004 - Add issues 43 and 44 - delete greyscale copies >

<! default style sheet, light grey background, black text, left justified table headers> <! display the crest of the seagate guild of adventurers>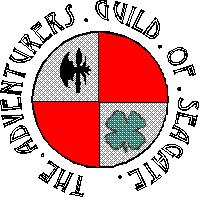 SEAGATE GUILD OF ADVENTURERS
This page contains a list of all the Seagate Times currently lodged in the Seagate Adventurers Guild Library. Each is in PDF format and requires Adobe Acrobat to read them. If you don't have it, it can be downloaded from Adobe.
The PDF files were created using Acrobat 4. If you have difficulties reading them, please inform the Librarian at librarian@dq.sf.org.nz.
The files are rather large so it is recommended that they be downloaded to your local drive, using a program such as GetRight, and viewed locally.
Thanks to Kelsie for scanning some of the earlier issues (Issues 1,2 and 13 to 20). The others were also scanned but the resulting files are still rather large. If anyone can produce smaller ones then please so so. The raw scans are avaliable if you need them. Also note that there was never an issue 12 for reasons explained in issue 13.

<! display the issues of the seagate times as a table with twelve cells in each row>
---
---