! Seagate Adventurers Guild Library Main Page HTML code written by Keith Smith This page is the main index for the seagate adventurers guild library. Links point to the indexes. There are also links to miscellaneous documents in pdf format. Modification History 18/12/1998 original code 21/12/1998 titles split off to their own page 21/06/1999 Seagate times split off to own page 24/09/1999 Add the miscellaneous page 27/01/2000 Add links to guild member pages 08/04/2000 Redesign links as two column table 13/04/2000 Links split off to their own page 01/05/2000 Add frames/no frames links for relavent pages 21/07/2000 Add What's New link 04/03/2002 Use shtml pages so that server side inserts will work >

<! default style sheet, light grey backgroud, black text, left justified table headers> <! display the crest of the seagate guild of adventurers>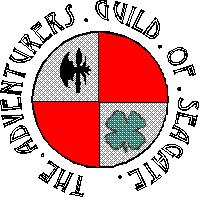 <!display the icon for e-mail>

LIBRARY OF THE SEAGATE GUILD OF ADVENTURERS
This page contains a list of all the documents currently lodged in the Seagate Adventurers Guild Library. Each is in PDF format and requires Adobe Acrobat to read them. If you don't have it, it can be downloaded from Adobe.
Note: The Seagate Guild of Adventurers is a roleplaying group based on the Dragonquest Roleplaying System.

Which stack of scrolls do you wish to view?
For submissions and comments please e-mail the Librarian (librarian@dq.sf.org.nz). The librarian can also be contacted by clicking on the pen and scroll icon found on most of the pages.

Page last modified: 04/03/2002 AD